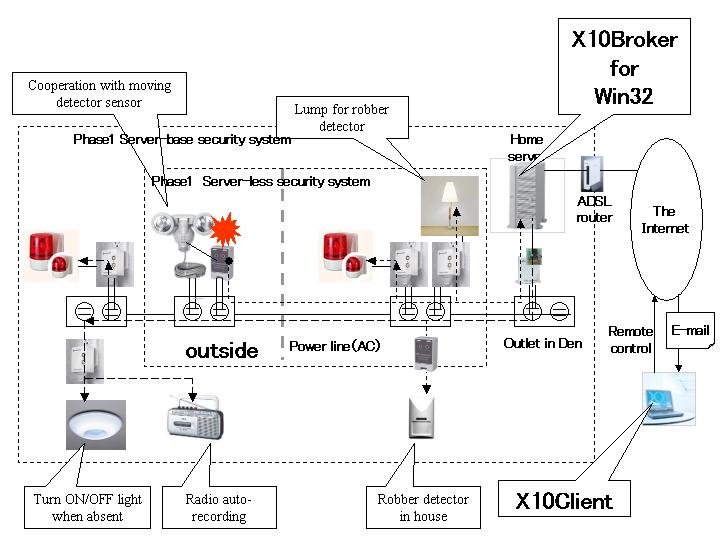 Please see x10broker2.txt
How to use "X10Broker for Win32"
Please read the chapter 6 and follows in x10broker2.txt
Download
System elements
X10Broker main body

X10BrokerBox(WindowsXP PC)
X10 power line I/F adapter stored in a small plastic case

Intruder detection kit for rooms

Motion detector sensor
X10 power flash
X10 remote chime
X10 power phon
X10 lump module
Patrol lump

It is possible to use any outlet anywhere in a house.

Sensor light against intruder for outside

RITEX$B!!(BSensor generation V-1200
Turning on a light automatically by the infrared sensor
Possible to detect intruders in daytime

Intruder detection signal amplification device(handmade)

keep the detect signal for 100 seconds by timer IC555
Activate X10 power flash by this device
SSR is also available for patrol lump

Confirmed that the another sensor lump that was installed in my house is available without amplification device

I thank Mr.Fujioka, who is a member of Systems Development Reserch Lab. in HITACHI gave me a lot of tips in order to design this device.

Alarm receiver(cell phone)

Display of cell phone which received a report from indoor sensor by a mail sending program set by x10policy.cfg
License
Copyright (c) 2005-2006 Tomoichi Ebata. All rights reserved.

Redistribution and use in source and binary forms, with or without modification, are permitted provided that the following conditions are met:

1 Redistributions of source code must retain the above copyright notice, this list of conditions and the following disclaimer as the first lines of this file unmodified.

2 Redistributions in binary form must reproduce the above copyright notice, this list of conditions and the following disclaimer in the documentation and/or other materials provided with the distribution.

THIS SOFTWARE IS PROVIDED BY Tomoichi Ebata ``AS IS'' AND ANY EXPRESS ORIMPLIED WARRANTIES, INCLUDING, BUT NOT LIMITED TO, THE IMPLIED WARRANTIES OF MERCHANTABILITY AND FITNESS FOR A PARTICULAR PURPOSE ARE DISCLAIMED.

IN NO EVENT SHALL Tomoichi Ebata BE LIABLE FOR ANY DIRECT, INDIRECT, INCIDENTAL, SPECIAL, EXEMPLARY, OR CONSEQUENTIAL DAMAGES (INCLUDING, BUT NOT LIMITED TO, PROCUREMENT OF SUBSTITUTE GOODS OR SERVICES; LOSS OF USE, DATA, OR PROFITS; OR BUSINESS INTERRUPTION) HOWEVER CAUSED AND ON ANY THEORY OF LIABILITY, WHETHER IN CONTRACT, STRICT LIABILITY, OR TORT (INCLUDING NEGLIGENCE OR OTHERWISE) ARISING IN ANY WAY OUT OF THE USE OF THIS SOFTWARE, EVEN IF ADVISED OF THE POSSIBILITY OF SUCH DAMAGE.
Contact
Please send your bug reports, opinions, demands to http://www.kobore.net/mailAddress.gif
---
Return to the top